Online training on your time!
We have partnered with World Education® to bring you the best of the best in online education. Classes available to you at your convenience. Whether you are advancing your career or jumping into a new one, these classes are here for you!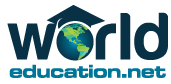 Highlighted Class in Workplace Readiness
From simple e-mails to formal letters, business professionals will need to compose documents that educate, persuade, inform, or enlighten others. Writing is an essential element of business communication. By the time most of us get through grade school, high school, and college, we feel like we have the basics of writing down pat. However, we still see basic grammar mistakes in the workplace. In a business setting this can be a problem, because others are making judgments about us and are forming opinions based on how we write. This course discusses grammar commonly used in the workplace.
- $40.00
Sample Classes in Workplace Readiness
An Overview of Marketing
- $195.00
Enroll now >>
---
Effective Professional Communications
- $40.00
Enroll now >>
---
GED Math Test Preparation
- $195.00
Enroll now >>
---
General Office Skills
- $2,295.00
Enroll now >>